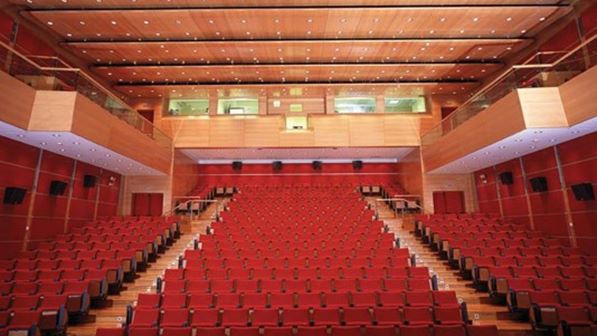 2nd SECTORAL CONGRESS- SHOW OF SECURITY & TELEVISION SYSTEMS
As a successful continue of Athens Electronix 2016 exhibition and Salonica Electronix 2017 congress, Libra Press is pleased to announce that it is proceeding with the 2nd Athens Electronix 2018.
Taking advantage of the very positive conclusions we drew from Salonica Electronix 2017, we decided that Athens Electronix 2018 would no longer be just a show like the 2016 event, but also to include a sectoral congress.
The 2nd Congress - show Athens Electronix 2018 will be held on March 3 & 4, 2018 at the Dais Conference Center in Maroussi.
The organizing company Libra Press
Libra Press is a well-known company in the sector of sectoral publications with Digital TV & Security Report magazines, as well as the websites www.digitaltvinfo.gr, www.satleo.gr and www.securityreport.gr, has entered the exhibition area with the "ATHENS ELECTRONIX", but also in the field of conferences with "SALONICA ELECTRONIX".
Libra Press has excellent market knowledge, since its employers are characterized by their long-lasting experience in security and television systems sector. For 20 years, every month we have been listening to your needs through our monthly communication and trying to refocus them in our magazines in the best possible way.
With the exact same way we adjust our effort to ATHENS ELECTRONIX 2016 and SALONICA ELECTRONIX 2017 and we wish the same thing about ATHENS ELECTRONIX 2018, always knowing the economic potential of our market.
The cultural center Dais
The choice of this place made under serious thoughts about the needs of our market, which are, a spacious congress and show center that it can provide all of the potential requirements with the best way without any kind of quality compromises. The cultural center provides air-condition, Wi-Fi and all the necessary amenities that a modern technology congress needs. It can fit all of our needs without additional costs or sacrifices. Furthermore it provides highly security and cleaning standards as also plenty of space for parking spots.
The cultural and congress center Dais at Maroussi is well-known for the variety of demanding events that have taken place in its premises. Its facilities, its modern audiovisual equipment, its services and its staff, make it one of the most valued congress centers of the Northern Suburbs as also in Athens. Well-known conferences, events and many trade fairs have already passed through the lounges of the Dais Cultural Center. Features include the shooting of "Greece Got Talent", the auditions of "Greek Idol", the EETT conventions, a lot of medical conferences etc.
Exhibitors
The congress is addressed to all of you that your company sells materials and security systems services, television networks - computer. Besides, the visitors will be not only skilled installers Security and Television systems, but also computer stores and shops with electrical, electronic, electrical equipment, as well as technicians from every corner of Greece that cover either services or material in specific sectors.
Visitors
The conference is aimed at all professionals and generally to all lovers of the technology industry, whether it's television or security systems, or due to the broader technology sector, such as networks, communications, fiber optics, audiovisual equipment, etc.
Commerce
Beneath the TV commercial spot, which will be achieved through the conference sponsors, ATHENS ELECTRONIX CONGRESS it will also be promoted by our Digital TV & Security Report magazines and from our company's websites www.digitaltvinfo.gr, www.satleo.gr and www.securityreport.gr, as well as from many other magazines, press and websites related to the broad technology sector and for which I will be informed. Brochures, posters and invitations will also be printed in abundance.
Live broadcast
The entire congress will be broadcast live in live streaming via the site and our forum (digitaltvinfo.gr - satleo.gr - securityreport.gr) and the link will be available on our pages on facebook for those who will not have the opportunity to participate, either they are from Greece or from around the world. At the same time, through internet, viewers will have the opportunity to make interactive questions and answers.
Electronic ticket - Early Registration
Accessing the congress it will be free. Guests of the Congress will be able to make a pre-registration through the website www.athens-electronics.gr. This means that the label with the data of each guest will be ready and available at the entrance. Of course, there will be electronic recording spot for all those who failed to ensure their e-mail subscription.
We are always at your disposal for any further information you may need.